PBS4L is Positive Behaviour Support for Learning. It is a school wide positive behaviour support approach that aims to develop social and learning outcomes. It supports us with teaching our school "Be Safe", and "Be Respectful" and "Be a Learner".

Students participate in lessons with their teachers to discuss what it looks like, sounds like and feels like when they are displaying the 3 agreements across the school. Students have been earning "Like It" tokens in their learning spaces and on the playground for displaying our school agreements.

When students display these agreements they earn "Like It" tokens within the classroom and on the playground and are told what agreement they were displaying to receive the token.

This term we will also continue with our wellbeing and resilience program called BOUNCE BACK! that we started last year. This program teaches children the skills and attitudes to help them become more resilient. It uses literature as a starting point for discussions and follow-up activities.

If you are resilient you are able to cope reasonably well with difficult situations and things that go wrong and then 'bounce back'. Throughout life children will need skills and attitudes to help them to bounce back. They will encounter everyday challenges such as making mistakes, falling out with a friend, moving house or school and losing in a sports competition. Many will also face challenges such as adapting to family breakdowns, a step-family, the illness or death of a family member, or being bullied.
BOUNCE BACK!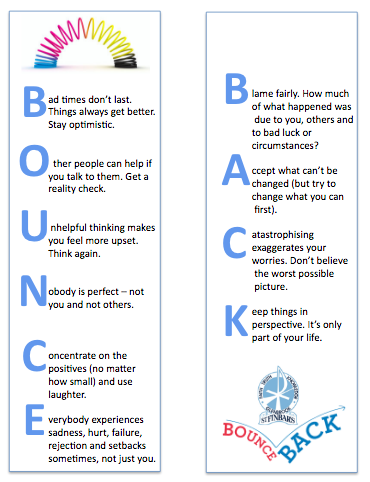 The Bounce Back program will be taught alongside our PBS4L program teaching the children how to act and be resilient in various situations throughout the day.

At St Finbar's we agree to be safe respectful learners.